(Video courtesy of Bronstein189)

Operating the Turbo Mentor the Uruguayan Navy way!
Uruguay naval air arm has been operating the Turbo Mentor on training and light attack duties since 1981. As Ernesto Blanco Calcagno/Airpressman.com reports, the two survivors are still busy despite a lack of spares and operational budget.
The Aviación Naval Uruguaya (ANU, Uruguayan Naval Aviation) received three Beechcraft T-34C-1 Turbo Mentor on April 15, 1981. On the 28th they were assigned to the Escuela de Aviación Naval (ESANA, Naval Aviation School) to start training Naval Aviators. The ESANA is located on the ANU's main base, Base Aeronaval No.2 (BAEN 2, Naval Air Station No.2) C/C Carlos Antonio Curbelo by Laguna del Sauce, near Punta del Este in eastern Uruguay. They were serialled as Armada 270, 271 and 272 (GM 82, 83 and 84, respectively). Armada 270 saw brief service as unfortunately was lost on March 22,1982 during a fatal training accident.
The ESANA had been created on August 15,1944 with three Fairchild PT-23 aircraft obtained in 1943 using the Ángel S. Adami civilian aerodrome located northwest of the nation's capital Montevideo, as the BAEN 2 would not be operational until 1947. Immediately prior to the T-34C-1's arrival, pilot training had been carried out on a single, piston -engined T-34A Mentor (Armada 260) delivered on October 15,1966, and three North American SNJ-5s (a naval version of the T-6 Texan) which had been in service since April 4, 1950. For twin-engine training, pilots would continue their syllabus on Beechcraft TC-45J/H (Navigator & Expeditor obtained from US and Argentinian stocks) or Bell OH-13 if the officer was allocated to the rotary wing squadron.There was an urgent need to modernise and expand the training fleet, since poor serviceability through the 1960s and 70s, had led to many naval pilots being trained in Argentina and the US.
The acquisition of a turboprop trainer had obvious potential advantages because a turboprop Beechcraft B-200T Super King Air twin engined Maritime Patrol Aircraft (MAP) registered as Armada 871, had been delivered in 1980. (see our feature about Armada 871 titled "Beechcraft B200T Maritime Patrol – Uruguayan Naval Aviation" – on this site.) https://airpressman.com/air-forces/beechcraft-b200t-maritime-patrol-uruguayan-naval-aviation/
The T-34C-1 was an export version to the T-34C in use by the US Navy and Marines Corps since 1977. Powered by a 550shp Pratt & Whitney PT6A-25, it had four underwing hardpoints for up to 1200 lb. (540 kg) of ordnance, including rockets, pods containing twin 7.62mm machine guns and bombs. Main differences in the cockpit were the installation of an armament box and a CA-513 fixed-reticle reflector gun sight. No trim tab "coolie hat" fitted on the stick – in its place a firing button was fitted – with large aileron and rudder trim tabs controls placed on the left hand side of the front cockpit.
The ESANA Turbo Mentor syllabus for the Guardia Marina (Ensign) students includes a basic and advance course lasting 18 months for an average of 130 flying hours. Missions are typically 1.5 hours long, although aerobatic sorties missions last only 60 minutes; there are also 28 simulator sessions. Students typically solo after 40 hours; it might seem as many hours, however in addition to flying, students are taught to operate with a naval unit at sea, interact with Marines or a Tactical Diver Unit.
As well as aerobatics, the syllabus includes day and night navigation, formation and basic IFR flying, and weapons delivery. Two locally built, fixed synthetic (No Motion) simulators are used, employing Uruguayan software that the Comando de Aviación Naval Argentino (COAN – Argentine Naval Air Arm) also uses in its Turbo Mentor simulators. Interestingly the COAN deployed four T-34C-1 to the Falkland/Malvinas islands during the South Atlantic War of 1982. These aircraft were used for reconnaissance, close air support and helicopter attack.
Three to four students join the school annually; they must spend at least a year aboard a ship before being accepted. Considering themselves 'flying sailors', naval aviators follow a strict doctrine to fulfil the role of supporting the surface fleet. Interestingly during 1995-1999 three Marinha do Brasil (Brazilian Navy) fixed wing pilots were qualified at the ESANA, as the Mercosur (the Southern Cone Common Trade Area) Naval partners all share similar doctrine.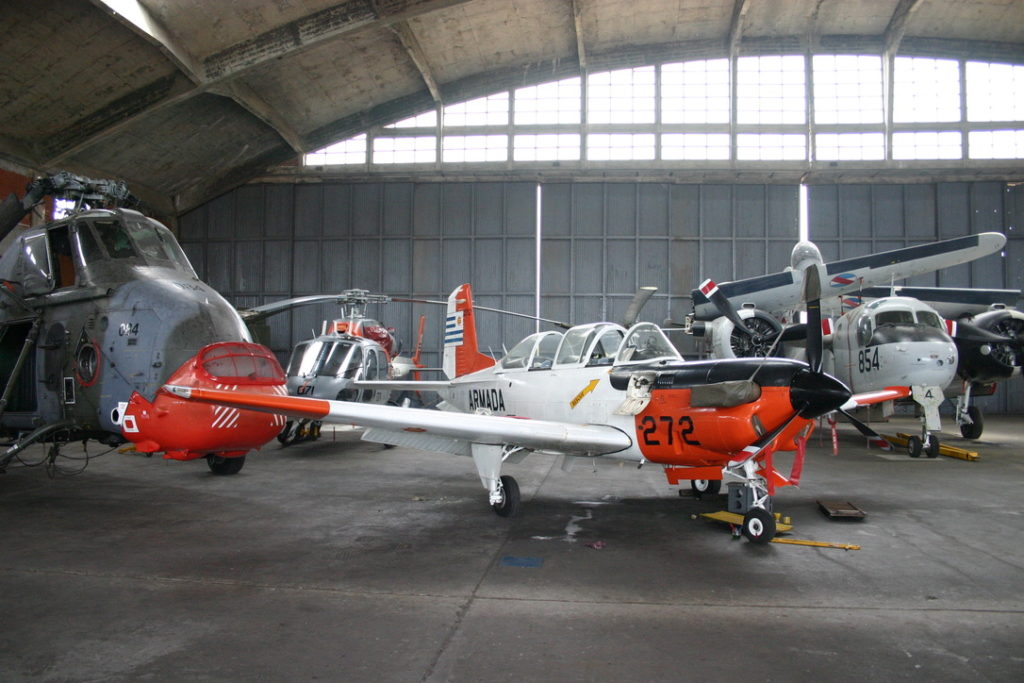 Charlie
Nicknamed "Charlie" in Uruguayan service, the Turbo Mentor provides a good balance as a trainer and a light ground attack type; being more mentally and physically demanding to fly than previous types and providing jet-like handling. The aircraft are constantly being put to the test, and Armada 272 proudly holds the world altitude record for a Turbo Mentor, having achieved 31,600 ft (9632m) during a test flight in 1999. Flying the aircraft were two qualified instructors and test pilots on the type, CF Gastón Bianchi (ESANA's director) and CC Gonzalo Ciganda (Vice Principal) who mentioned that it took the Charlie 45 minutes to climb to that altitude.
The ANU continued to operate the piston engined version of the Mentor after the Turbo Mentor's introduction, taking former Fuerza Aérea Uruguaya (FAU, Uruguayan Air Force) T-34A FAU 651 in exchange for its surviving SNJ-5s (Armada 256 and 258) in April 1985. The T-34A became Armada 261, while the FAU continued with a large fleet of Texans until 1993. Two more ex FAU T-34s were received in 1992 (becoming Armada 262 and 263) but budgets restrictions meant they never flew again. Armada 261 was withdrawn from service in 1997, and Armada 260 in 1998, after evidence of wing fatigue was found during maintenance inspections.
On such a small air arm, tasked primarily with maritime patrol and reconnaissance presence on territorial waters, the Turbo Mentor has to be a multi-role platform, flying Forward Air Control (FAC) and Close Air Support (CAS) missions to support the Fusileros Navales (FUSNA, Marine Infantry). Training sorties might also be re-roled should an urgent requirement emerge, perhaps becoming a reconnaissance mission, to start fluvial/maritime patrols, check for illegal fishing boats, smuggling activities, lost ships, wrecks, ships or containers adrift, buoys or people at sea in need of help or even a SAR mission.
A Skymaster II Unipack ten-man life-raft can be launched from a T-34C-1. The unit seen here is attached to one of the four underwing stations. (Ph.: Ernesto Blanco Calcagno/Airpressman.com)
The service makes use of two nearby danger areas for regular and weapons delivery/gunnery training, D8, a land range adjacent to the Garzón Lagoon and D16, in Atlantic waters south of the port of La Paloma; both are a 20 minutes flying time east of BAEN 2. Argentine manufactured SUP-MX 657 launchers firing 2.25in high-explosive rockets are used, along with 100 and 250lb bombs (45 kg and 114 kg respectively).
The Turbo Mentor is a frequent participant in military exercises, including Rio Revuelto and Acrux, alongside Argentine armed forces. Here they engage in several modes of naval warfare, interdiction and defence of a friendly area. The regular area of operation for this exercise is the Uruguay River, which provides ample space over a river on an international border (Argentina/Uruguay). In a region which has many rivers and the largest concentration of potable water on the planet (the Guaraní aquifers, comprising large sections of the territories of Paraguay, Argentina, Brazil and Uruguay) waterway protection missions, specially those around jungle, remote areas where terrorist could operate undetected, are seen as extremely relevant.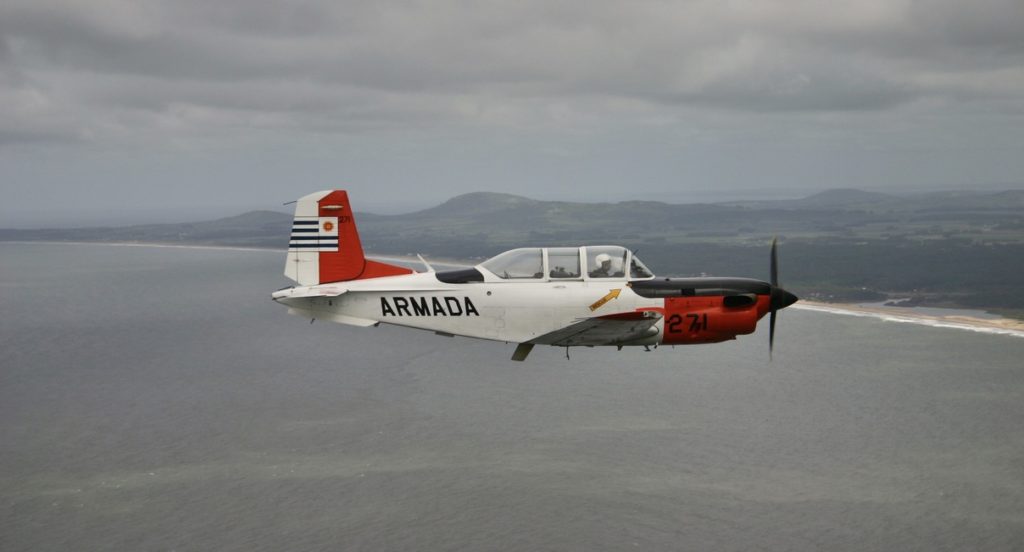 Future and more Charlies?
After 39 years service the aircraft have each accumulated more that 4000 flying hours each and are long in the tooth. However other factors are observed before an aircraft is retired. The US Navy utilises a parameter called Fatigue Life Expended (FLE) – a sort of "used life" of the aircraft expressed as a percentage of remaining life based on the type of flying achieved, how many take off and landings have been performed and kind of loading (G forces) sustained. Therefore when the FLE percentage reaches 100% the aircraft is withdrawn from service. The two uruguayan aircraft are mostly used for training naval aviators, with the subsequent attrition; and all things considered, are at the end of their useful life. Ideally the ANU wish list is for a further three aircraft and have been sought from US Navy stocks that retired its 280 T-34Cs. Some Turbo Mentors were retired with 80% of their FLE, as the service transitioned to their new trainer, the Beechcraft T-6 Texan II. Therefore low time Turbo Mentors with their low cost per hour flown, would be a good option as the ANU has ample experience in operating and maintaining the type; instead of opting for a different aircraft.
ANU personnel visited several US Navy facilities during 2014; amongst them Corpus Christi NAS in Texas and Pensacola NAS in Florida, to evaluate some retired Charlies. The US through its Excess Defense Article (EDA) program, makes available military and civilian equipment at reduced costs to friendly nations. These materials are sold in a condition called "as is, where is". Each aircraft was initially valued at 35.000 dollars therefore a quotation for six aircraft was requested (to preserve and rotate three of them whilst in operation in Uruguay). Pricing for further desirable items were requested like motion flight simulators, formation flying simms, parachute egress training mock-ups, spare engines (each at 37.000 dollars), full sets of spares for the three (out of the six) aircraft and flight manuals. There was a US requirement to overhaul the aircraft with local maintenance firms and the aircraft had to be flown to these facilities by US pilots. In conclusion, in accordance to some uruguayan sources, the final quote was close to 17 million dollars, well above the ANU's budget. Further costs would include the shipping by sea of all materials to Uruguay as well as possibly modify the C model aircraft to C-1 (armed); basically the fitting of the four underwing store stations and the electrical wiring to launch the weapons, thus standardizing the whole fleet of Charlies. Further worries and costs arise from the fact that with the Turbo Mentor no longer in production nor in service with the US Navy, spares should be plentiful, however expensive if parts are commercialised by civilian contractors – a hard fact already experienced by the ANU a few years ago whilst operating the british built Westland Wessex HC MkII helicopters.
The Uruguayan Navy has been offered the chilean Enaer T-35 Pillán trainer as well as the brazilian Embraer T-27 Tucano and A-29 Super Tucano, with negotiations getting nowhere. Perhaps the additional aircraft required might come from the Fuerza Aérea Ecuatoriana (FAE – Ecuadorian Air Force) that retired the type in 2018 after 40 years in service, with negotiations continuing both with the US Navy and FAE. An excellent relationship exist with Ecuador, as the FAU obtained three former FAE Cessna A-37B Dragonfly jets in 2014 in exchange for high level academic training of FAE's officers in Uruguay. (See our feature about the Dragonfly operations on this link https://airpressman.com/uncategorised/869/)
The ANU's struggles primarily with a lack of spares for unscheduled maintenance, which grounds aircraft for extended periods, and a tiny operational budget. Armada 271 is a prime example, it was grounded after a bird strike to its right wing during a combined operation with the FAU and Ejército Nacional (Uruguayan Army) in 2009, becoming airworthy again in mid 2020. Immediately Armada 272 went into overhaul leaving only Armada 271 airworthy. Recently a decision was made to upgrade the cockpits of the Turbo Mentors by installing the Garmin G5 digital flight display, replacing the old mechanical artificial horizons. This solid state, no vacuum system with built in GPS will add a small modern feature to an old airframe.
In recent years Uruguay concluded a successful application to extend its territorial waters from 200nm out to 350nm, presenting even greater challenges to this small Fleet Air Arm. There is some light at the end of the tunnel as the ANU received three Cessna O-2A Skymaster as a donation from the chilean navy in august 2018, bought one Bell OH-58A Kiowa from Canada this year to train its rotary wing crews and awaits the arrival of two Agusta Bell AB-412 from stocks of the Italian Guardia Costiera (Coast Guard) later in 2020. Let us hope that their fixed wing aircraft replacement wish list becomes real, really soon!