(Feature image by Tabaré Ifran)
Presentation of Textron T-6C Texan II and Pilatus PC-7 MkII to the Fuerza Aérea Uruguaya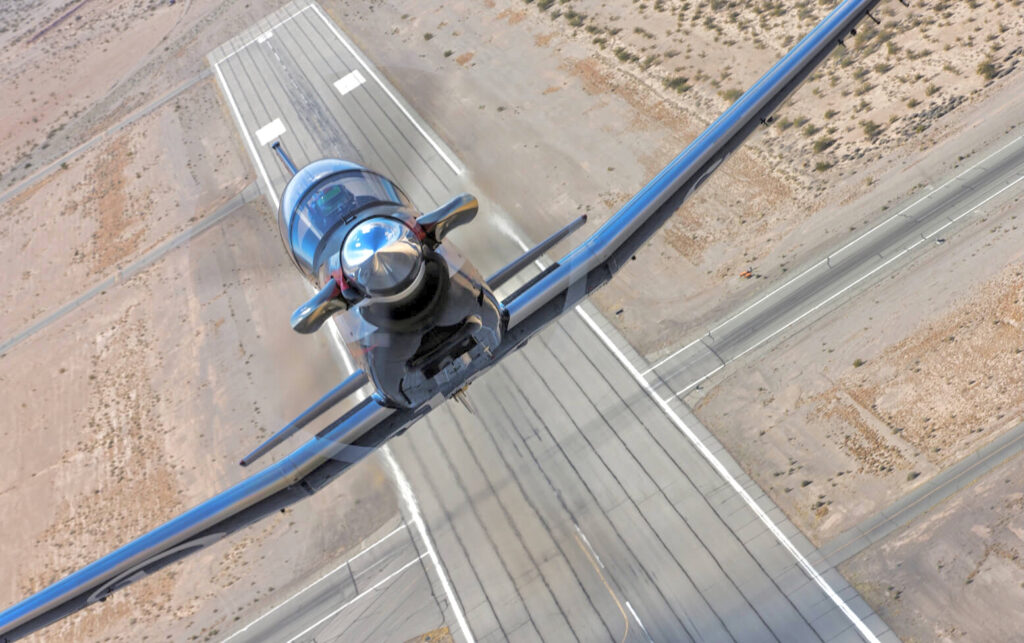 On April 9, 2018, the Embassy of Canada in Montevideo, Uruguay – through its diplomatic representative -Ambassador Joanne Frappier, presented two fixed-wing turboprop training aircraft to the Fuerza Aérea Uruguaya (FAU – Uruguayan Air Force) authorities: a Textron T-6C Texan II and the Pilatus PC-7 Mk II. Interestingly the Texan is US built and the Pilatus, produced in Switzerland; however Canada – sponsoring the presentations – builds the Pratt & Whitney PT6A-68A and PT6A-25C engines respectively – as well as several of the avionics suites.
A US built Textron T-6C Texan II aircraft – factory demonstrator N3000B – was flown from Santiago (Chile) were it participated the FIDAE International Air & Space fair – to Montevideo. The aircraft was shown to the Uruguayan authorities, including its then Commander-In-Chief General Alberto Zanelli, in the facilities of the Brigada Aérea No. 1 (Air Brigade 1) adjacent to Montevideo Carrasco International airport. Later on the day the Texan II took part on a formation flight alongside the FAU's Historical Flight North American Texan AT-6D-NT (FAU 366); were the Texans old and new participated on a photographic sortie documented from a FAU Airbus C-212 Aviocar transport aircraft attached to Escuadrón Aéreo no. 3 (transporte) (Air Squadron 3 – transport)
MEET GRANDAD!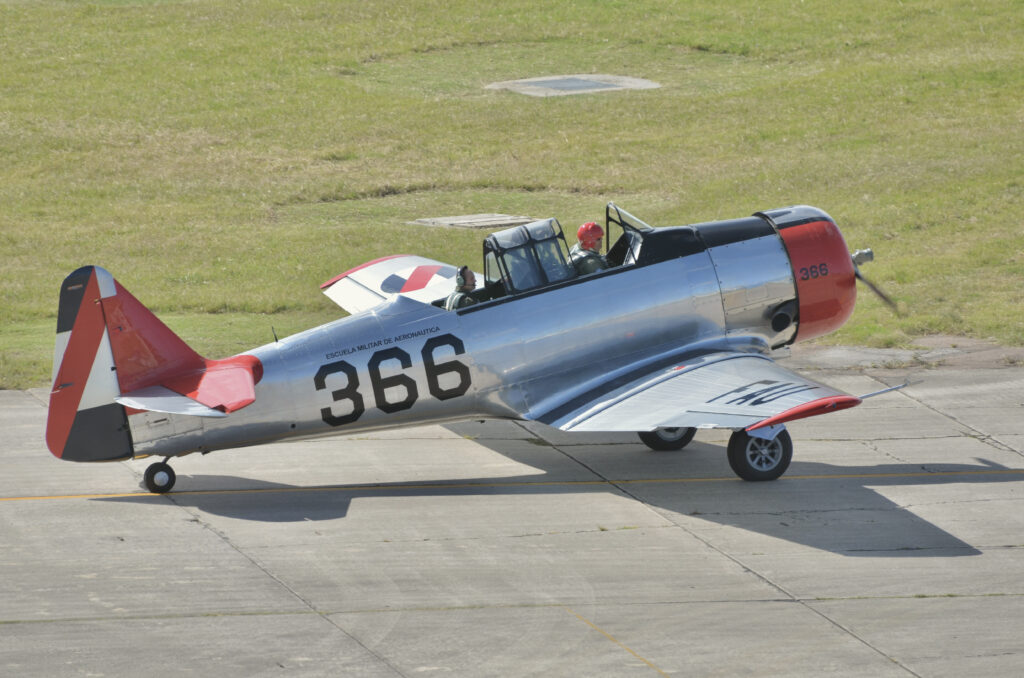 FAU 366 ( a model NA-88, c/n 88-18228, ex USAF 42-86447) was one of the 50 Texans bought by Uruguay, most of them received between 1942 and 1957 (a further four were enlisted, two former Chilean Air Force in 1978 and two from the Aviacion Naval Uruguaya in 1984, exchanged for a former FAU T-34A). FAU 366 also bears the civilian registration CX-NAT and served with the air force since October 28, 1954 until October 11, 1990. Bought by a civilian in 1991, it was lovingly restored from a batch of engines and three airframes, by the uruguayan commercial pilot Delfín Díaz. Now bearing the paint scheme worn by the type during 1967/68, it was acquired by the Uruguayan Ministry of Defense in 2013, during October that year it participated on the celebrations of 100 years of the country's military aviation. FAU 366 then became part of the service's historical flight and was attached to the Museo Aeronautico Jaime Meregalli located adjacent to the Brigada Aérea no. 1. In total the Uruguayan Texans flew for 51 years – since 1942 until their retirement in 1993 – a total of 178.000 hours!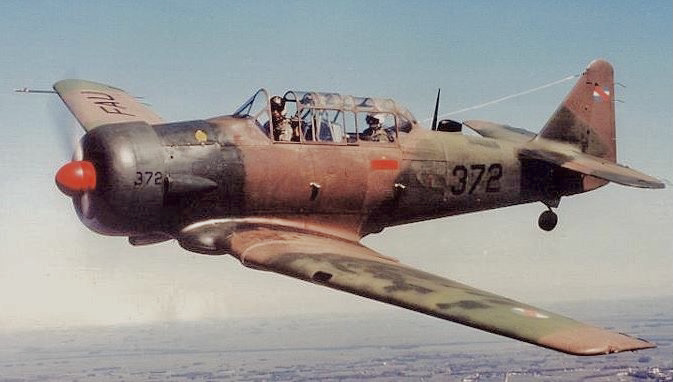 TEXAN II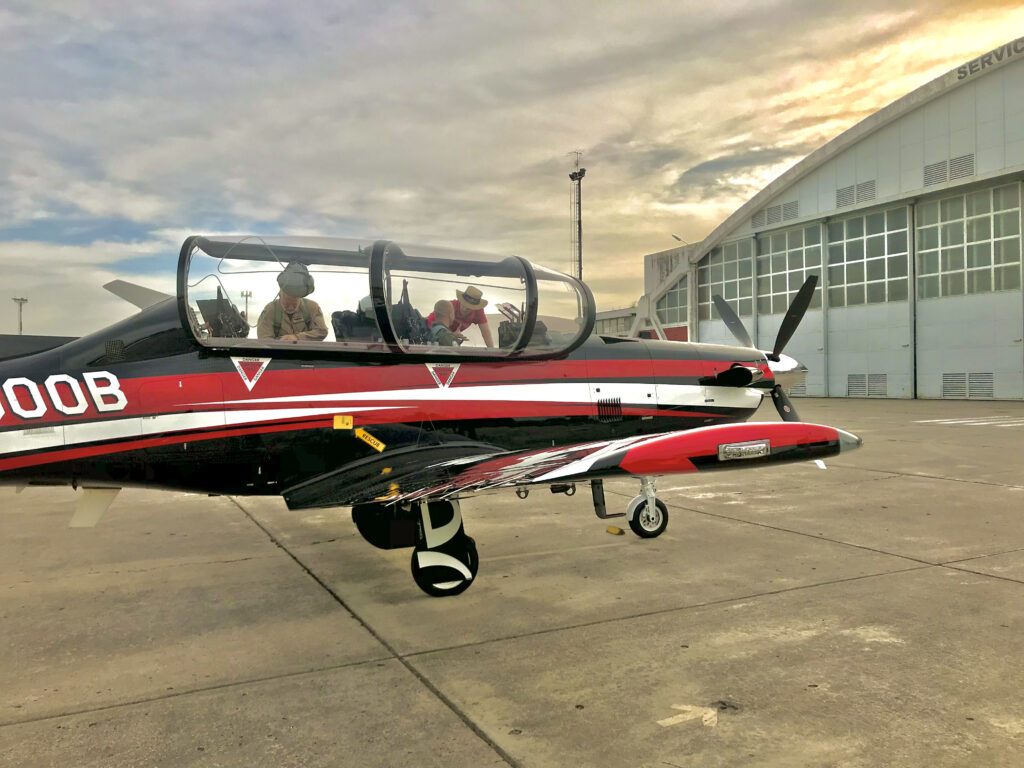 The US built Texan II was the winner of the Joint Primary Aircraft Training System (JPTAS) by the Air Force and Navy competition in the United States. The designers of the airplane used the Pilatus PC-9 as the initial platform, carrying out more than 500 evaluation flights by military pilots to determine the needs that were later reflected in the design of the new aircraft. This is how the T-6A Texan II came about and was adopted by the United States Air Force replacing their aging Cessna T-37 fleet, and the T-6B for the US Navy substituting the Beechcraft T-34C. Later in its version T-6B Texan II, its cabin was updated with "Head-Up Display" (HUD), multifunction screen and HOTAS system.
The version presented in South America – T-6C Texan II – is an armed version with advanced technology, tandem seating configuration fitted with Martin-Baker MK US16LA ejection seats. His top speed is 316 kias (0.67 Mach) and has six hardpoints for NATO standard weapons, two of them plumbed for the installation of two external fuel tanks (each capable of carrying 67,2 US gallons/254lt). A full plethora of options to fulfill customer's request like the installation of AOA indexers, auto ignition relay kits, HD camera cockpit mounts for the recording of missions and as well as pack of synthetic air-to-air and air-to ground training systems.
Following his visit to Montevideo, the factory demonstrator N3000B was later positioned to the FAU main air combat base, the Brigada Aérea No. 2 (Air Brigade 2) 100 nm (190 km) north of Montevideo, in Durazno central Uruguay. Four FAU pilots – three from the Escuadrón de Vuelo Avanzado (Advanced Air Squadron – EVA) equipped with armed Pilatus PC-7U and one from Escuadron Aéreo No. 2 (CAZA) (Air Squadron 2 – Fighters) flying A-37B Dragonfly jets, conducted assessment flights on the Texan II.
PUCARÁ, PILATUS PC-7U & T-34C1 REPLACEMENT?
Meanwhile, the Swiss built Pilatus PC-7 MKII advanced turboprop trainer was presented in Montevideo on a single briefing with no demonstrator aircraft present. The type which shares avionics with the PC-9M trainer , is already in service with the South African, Indian Air Force and Botswana Air Defence, has among other performance improvements and features, ejection seats fitted. The manufacturer claims that the type offers the lowest engine operating cost of any turboprop trainer. As previously stated, the FAU operates since 1992 a fleet of five PC-7U (locally designated as AT-92) used for advanced and weapons training, with four lives and two aircraft lost in fatal accidents during 1994 (FAU 304 – c/n 597) and 2008 (FAU 303 – c/n 596) on a flat spin and a bird strike events respectively, lives that could have been saved had the type possessed ejection seats.
The two aircraft presented could be a good option to replace the old swiss built PC-7U advanced training fleet. Both are powered by the ubiquitous PT-6 engine (many in service within Uruguay both with the FAU and the Uruguayan Naval Aviation) and have similar performance. The Texan II with its more powerful 1100 shp PT6A-68A engine – against the de-rated 700 shp PT6A-25C fitted to the PC-7 MkII. With more speed, power, G load and heavier payload and a combat proven airframe – on the AT-6 Wolverine – it could be a modern platform to replace the now retired in Uruguay, Argentine built FMA IA-58A Pucará twin turboprop attack aircraft. (See feature Pucará – Uruguayan Drugbuster) .The type served on the now disbanded Escuadrón Aéreo no. 1 (ataque) (Air Squadron no. 1 – attack) as a COIN/CAS aircraft from 1981 until 2016. The Aviación Naval Uruguaya (Uruguayan Naval Aviation) could also benefit with the addition of a more up to date trainer, substituting their single engine turboprop trainers Beechcraft T-34C1; being this for export version, utilized on pilot training and light attack missions since 1981. (See note Uruguayan Navy T-34C-1 ("Charlies")).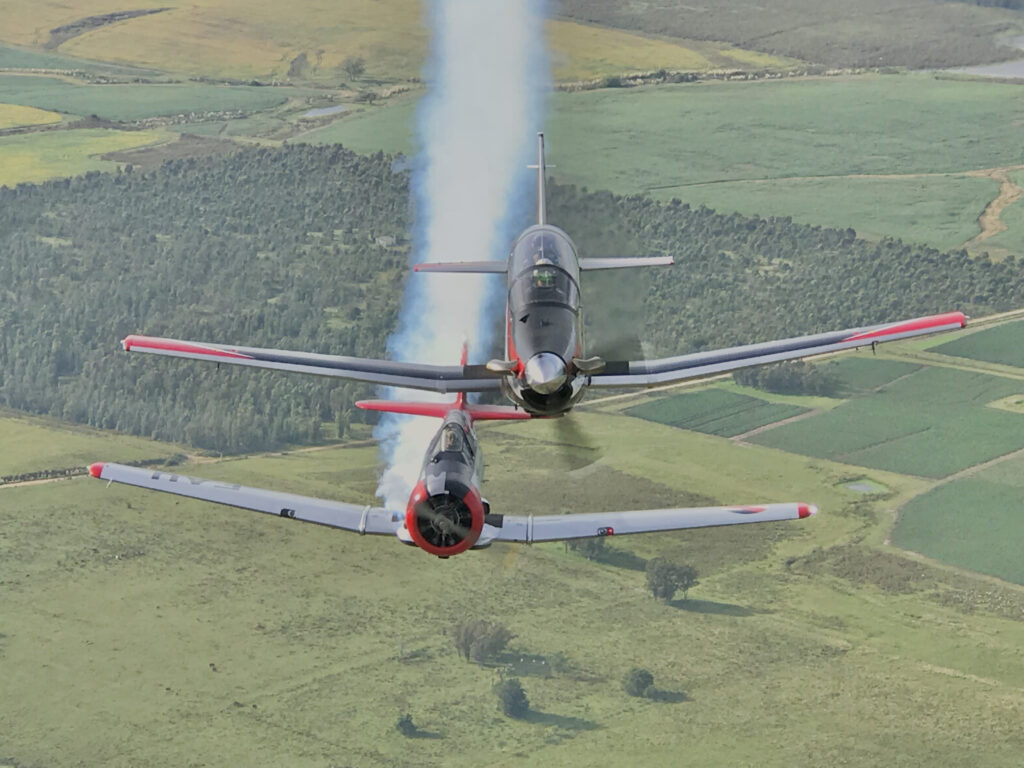 Furthermore, Uruguay's neighbour Argentina, received its first T-6C Texan II on September 1st, 2017, out of an order of 24 aircraft for the Fuerza Aérea Argentina (Argentinian Air Force – FAA). Should the Uruguayan Government decide in obtaining these modern aircraft, joining forces with the FAA, the FAU could synergise and simplify spares ordering, chain of supply, maintenance as well as pilot training and mission planning processes. The Escuadrón de Vuelo Avanzado (EVA) would carry out the advanced portion of pilot training on a state of the art platform and perhaps the Escuadrón Aéreo no. 1 could be reactivated now that their Pucará have retired.
Of course, the previous statement is only the author's wishful thinking, as the FAU's number one priority is the procurement of a modern combat jet – it has precedence with the present uruguayan government – to replace their obsolete A-37B Dragonfly fleet of jets! (See A-37B ROAD DEPLOYMENT: "Highwaymen")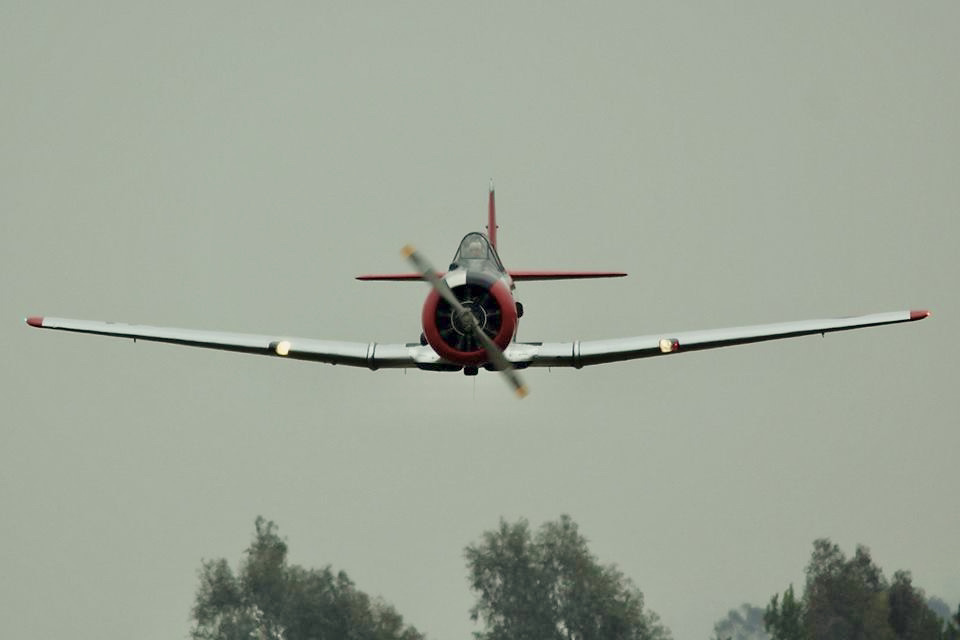 The author wish to thank Beechcraft/Textron Inc, FAU and civilian personnel for the excellent images provided. To Diego Uminsky, Tabaré Ifran (Main cover image) Captain (Av.) Martín Abreu, Lt. Colonel (Av.) Gerardo Tajes, and the now departed aviation author and instructor Rolando Grasso Alfaro; for the kind gift of his excellent book about the AT-6/SNJ Texan in Uruguayan service (original Spanish name: "El North American AT-6/SNJ Texan en la Aeronáutica Militar y Fuerza Aérea Uruguaya) tome that made this feature possible.