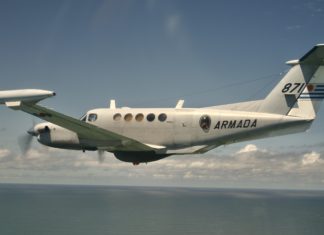 La operación del B-200T - primer Super King Air armado del mundo - por la Aviación Naval Uruguaya.
Para leer el artículo completo sobre la operación de estas aeronaves Super King Air de patrulla marítima, junto a la Aviación Naval...
Copyright Ernesto Blanco Calcagno/www.airpressman.com COPYRIGHT Ernesto Blanco Calcagno (www.airpressman.com) The Escuadrón Aéreo no. 5 (Helicópteros) (Air Squadron no. 5) of the...